---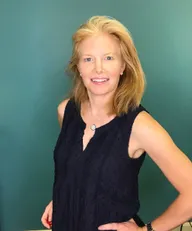 Heather Meyers goal is to help people keep moving. When we can walk, lift, twist, bend and overall move in our world we keep our bodies healthy. Heather has been with us for just over 2 years initially as a chiropractic assistant and for the past year and a half as a massage therapist. With many years of practicing and teaching yoga Heather has extensive knowledge about how are bodies are meant to move and she is able to combine that with her massages. Whether your massage is for overall relaxation, getting that "knot" out or keeping you pain free and moving in your favorite sport Heather is able to deliver the right massage for you.
Heather always has a smile on her face and enjoys spending time with her family. She also loves being out and about on the avenue in Del Ray. Don't be surprised if you find her CrossFitting or just hanging out having a coffee while treating herself to a tasty paleo muffin at one of the local coffee and bakery shops.
Viviane Esteves started her career in massage therapy in 2002, when she graduated from National Massage Therapy Institute in Falls Church, Virginia. She had the opportunity to have hands-on training on many advanced, natural healing techniques from talented massage therapists who have been practicing for decades.

Viviane creates individual treatment plans for each client because she feels it is essential to personalize each session, and she wants to help each client continue to feel they are at their personal best. Calling upon her extensive knowledge and experience, she often combines different modalities and techniques in one session to fit the client's unique needs.
Viviane has focused on helping those who have medical conditions such as diabetes and cancer and suffer from chronic and acute pain throughout the years because she knows firsthand how these conditions can affect a client's emotional and physical quality of life.